VICTORIA AND SICHUAN TO BECOME SISTER STATES
On the 23rd September 2016, Victoria and the Sichuan Province signed a letter of Intent to establish a sister-state relationship within the coming year.
The Victorian Premier, Mr. Daniel Andrew and the Sichuan Governor, Mr. Wei Hong signed the historic agreement making it Australia's first state to establish a sister state with Sichuan.
Victoria is Australia second most populous state, with a population very close to 5.5 million, gross domestic product valued at AUD$355.6 Billion (2015) and its economy growing a 2.9% (Treasury Update Sept. 2016).
The Sichuan Province is China's fourth most populous province , with a population over 85 million, China's sixth largest provincial economy, gross domestic product valued at USD$458 Billion (2015) and economic growth above 7%.
Victoria has been traditionally known as Australia's industrial and manufacturing state and has been home for decades to many iconic Australian brands within the automotive, construction and food manufacturing industries to name a few.
The Victorian economy is a significant exporter of goods and services and was responsible for A$15.8 billion or over 25.1% of Australia's export of services in 2014-15.
Victoria was also the first Australian state in September 2013 that opened a trade office in Sichuan to help with the two way trade relationship.
Melbourne is Victoria's iconic capital and is deemed as Australia's epicentre for arts, culture and sports. Its citizens like Chengdu , the capital of Sichuan, have a very healthy and unique work life balance. Any morning when you walk through Melbourne's quaint lanes and streets, you can see people sipping their coffees and enjoying life just like Chengdu's citizens when converging in tier famous tea houses and restaurants.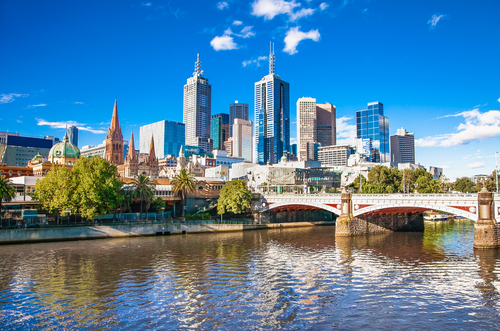 Victoria is also home to many prestigious universities such as University of Melbourne University, Monash University, Deakin and RMIT to name a few. The University of Melbourne is also home to the Melbourne Business School one of Asia premier MBA business schools.
Victoria is gradually transforming itself into a viable start up capital with its entrepreneurs leading the way in environment, education, health , logistics and social media.
As Premier Andrews stated
"We will work to strengthen the relationship with Sichuan over the next 12 months and look forward to the significant opportunities this will bring to Victoria."
"By working together and sharing our knowledge in creating liveable cities, we can keep Melbourne and Chengdu amongst the best in the world."
The media release also stated
"The sister state relationship will draw on Melbourne's status as the world's most liveable city, and Chengdu's recognition by the Asia Development Bank as mainland China's most liveable city"
Investinchengdu.com wholeheartedly congratulates the Victorian State Government and the Sichuan Provincial People's Government on their sister state agreements and over the medium term this will provide significant socio economic rewards for its esteemed institutions, universities, and citizens.
Recently the Sichuan's Provincial Peoples Government Chengdu Municipal Government have been undertaking significant development efforts in the Tianfu New Area, where one finds Science City, The Tianfu International Fund Town and overtime the Western International City covering 840,000 sqm and Chengdu's second international airport
Sister state agreements can also trace their historical links to millennia and it makes common sense that those regions who share similar socio economic and human characteristics should regularly be inking these agreements.
Indeed what is at the core of these sister state agreements is the " learning and development" requirement. Victoria through its innovative and traditional industries can provide a broad array of strategies and solutions for the Sichuan economy to further develop. Likewise Sichuan with its pioneering industries and large populous can provide further stimulus to grow the Victorian economy.
However what is more important, is we the citizens of Victoria and Sichuan take the important steps in better understanding each other's attributes, strengths and even weaknesses and " help each other" in furthering our human experiences and journeys.
" We will be the drivers of innovation and prosperity, we will lead the way through human creative thinking and the need to capitalise on the tremendous efforts our esteemed institutions".
Finally, as we regularly advocate those citizens from Sichuan and Victoria who make the initial journey to each other's regions overtime, have an open and inquisitive mind , will broaden their horizons and reap over the medium to long term significant socio economic rewards .
Disclaimer: This article was written and researched by www.investinchengdu.com and Chengdu 'Dailu' Business and Management Advisory Services Co Ltd. 成都带路企业管理咨询有限公司