CHENGDU AND SICHUAN THE INSTRUMENTAL DRIVERS OF CHINA'S GO WEST POLICY
Recent economic data released by China's Ministry of Commerce regarding Western China and the significant increase in foreign direct investment, further confirms the results of our ongoing analysis: that it is these western provinces and regions who will play an instrumental role in China's continued growth and sustainability, and importantly, provide unique business and investment opportunities.
Western China
Western China which covers 73.3% of the Chinese mainland, is home to 28.4% of the population and accounts for approximately 20% of the national GDP. This region encompasses the six provinces of Ganzu, Guizhou, Qinghai, Shannxi, Sichuan, Yunnan, five autonomous regions of Guangxi, Inner Mongolia, Ningxia, Tibet and Xinjian and the municipality of Chonqging. Significantly, the region shares borders with twelve 'western gateway countries, Bhutan, India, Kazakhstan, Pakistan and Russia.
The Ministry of Commerce data stated "The utilisation of foreign capital in Western China reached RMB 5.87 Billion in January 2016, registering a registering a year-on-year growth of 16.9 percent. Furthermore, the western regions attracted a reasonable portion of total Chinese foreign investment".
Indeed, this long term trend is fully understandable in light of' China's "Go West Policy ", which directed vast resources to the development of Western China's infrastructure (e.g. airports, highways, railways, power plants, telecommunications), SOE's and education capabilities.
However, it has been the economic and investment activity within the last five years, which has been fundamental in maintaining this economic and per capita income growth. Between 2010 and 2015, economic growth has averaged around 10 percent, with some regions recording close 13.5 percent-plus growth.
Sichuan and Chengdu
The Sichuan province, and predominantly through its capital Chengdu, has been one of the pioneering regions in driving this economic and foreign direct investment growth. Sichuan is China's 5th largest province, covering 485,000 square kilometres and is home to 80 million plus residents, with a GDP of US$458 billion (2014). Chengdu is China's fourth largest city, covering 12,130 square kilometres, it is home to 15 million residents and GDP of US$160 Billion (2014). Furthermore, GDP per capita income is approximately USD$11,500, about twice the average of the Sichuan province and Greater China.
Situated in Chengdu and Sichuan Province at large there are over 299 Fortune 500 companies, investing in industries ranging from automotive, manufacturing and banking to exhibition hosting, healthcare, Internet/Information-Technology and many more.
In 2009 Germany's Volkswagen (VW) entered into a joint venture with the Chinese FAW Group , to open an automotive manufacturing plant in Chengdu. This was VW's third manufacturing centre in China and the first in Western China. The plant commenced production in 2011, it now produces 450,000 units of globally recognised models such as Jetta and Sagitar and employs over 7,300 employees. When the German Chancellor, Angela Merkel, undertook her July 2014 China trip, Chengdu was her first point of call and she included a visit to the VW FAW plant. Please refer to the following link for further background and insight into her VW-FAW visit and some of the ground breaking environmental technologies utilised.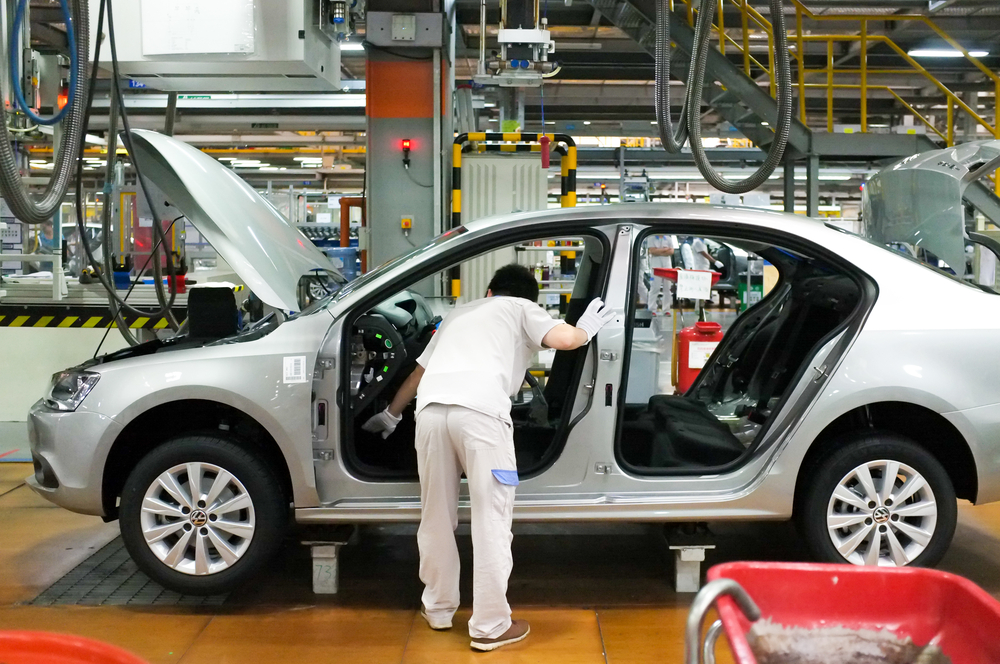 Just this year, in January 2016, Medtronic, a global leader in medical equipment technologies, announced it had formed a partnership with the Chengdu Municipal Government to manufacture and deploy advanced diabetes therapies in Chengdu, China.
The press release stated "Medtronic will invest in a manufacturing facility for a next generation sensor augmented pump system with SmartGuard(TM) technology to help provide better diabetes management for the growing diabetes population in China",
In the financial and banking sector there are now sixteen foreign banks operating in Chengdu, including Citibank, Standard Chartered, Hang Seng and ANZ. 2014 data from the Chengdu Municipal Government website states "the financial sector generates 10.3 percent of Chengdu's GDP" and, in May 2015, they released their economic plan "to develop a service-centred city with the objective of becoming 'the most robust and innovative financial hub'".
Chengdu's competitive advantages
Investinchengdu.com has advocated that professionals, start ups and enterprises entering China, should analyse the investment climate in the Tier 1 metropolises. However, it is the Tier 2 cities, and progressive provinces within Western China, that the corridors of " future economic growth, sustainability and prosperity" reside in. They are creating new business opportunities, competition is not as ferocious, there is an esteemed respect for law and order a unique work life balance.
42 Million visitors are arriving annually through Chengdu's Shuangliu International airport. Furthermore as at May 2016, construction has commenced on Chengdu's second international airport 'Chengdu Tianfu International Airport'andn it will be the third city in China after Beijing and Shanghai, that houses a second international airport.
Furthermore with the opening of the Chengdu Lodz Poland railway lines, and over 15 foreign consulates based in Chengdu, professionals and multi-national enterprises alike are steadily appreciating its significant business and investment opportunities.
Chengdu also has a technically strong and well educated workforce of over 3.54 million professionals, as well as a skilled industrial labour pool, who do not command the larger salaries now becoming entrenched in the cites of the Tier 1 Eastern Provinces. Chendguans have a great 'work life balance' and this has recently convinced many entrepreneurs and professionals to make the journey back to Chengdu to commence their business, e commerce and technology ventures. In Chengdu, there are also over 10,000 tea houses, which, apart from being enjoyed by its citizens, area where many entrepreneurial and start up conversations take place. Lately streams of newly arrived enthusiasts have been congregating at them and appreciating Chengdu's finer things.
Chengdu also has a very modern infrastructure system. Domestic investment in efficient highways, railways, and telecommunications has been ongoing and this is beginning to pay dividends for local and international business alike. Recently more railway lines have been added to the network which significantly run deep into the South of Chengdu , the Tianfu Software Park and across the East-West city divide.
Chengdu already has a vibrant technology culture that is both very accessible to start-ups and supportive of them through leveraging 'technology cluster zones', which encourage collaboration, innovation and learning. The Chengdu Hi Tech Zone, which was initiated in 1988, well before "China's Go West Policy", has been instrumental in the socio-economic development of Chengdu and Sichuan Province. Its 30,000 plus registered local entities, plus 1,000 foreign-invested businesses have sprawled over 130 square kilometres in South Chengdu; and with the investment of capital from global multinationals such as Microsoft, IBM, Siemens and Deutsche Bahn, the economic and technological landscape has been significantly transformed.
Chengdu also has a thriving research & development and innovation focus, and is home to over 50 universities, 30 national level research institutes and a large number of research laboratories. Universities such as the Sichuan University and The University of Electronic Science and Technology of China, have been instrumental in developing their STEM (science, technology, engineering and mathematics) abilities, a national priority to meet a global demand.
The Sichuan Provincial People's Government and the Chengdu Municipal Governments have a strong "pro business and investment" track record and readily support diverse new ventures in emerging and innovation driven industries such as advanced manufacturing, automotive, and especially new-energy vehicles, biopharmaceuticals, environmental, advanced materials, medical equipment, technology and IT to a name but a few.
The Chengdu Municipal Government has recently introduced its "ten point talent program" announcing both financial and non-financial incentives for professionals to relocate to Chengdu. Programs are in place to provide equity to assist innovators and entrepreneurs commercialising their ideas or find ready employment in the local enterprises. Furthermore, an emphasis is placed on providing sufficient assistance for overseas professionals to ensure they become accustomed to Chengdu's way of life and, in due course, develop their intellectual property and business models effectively.
Chengdu is in the process of developing a unique, standalone intellectual property regulation, to better safeguard professionals and enterprises developing patented technologies. Indeed IP law is a dilemma in various other provinces, but within Chengdu its citizens have a high esteem for the law and enshrined into their culture and ethical values is the notion of "Honest Chengdu".
Sichuan and Chengdu also play an instrumental role in developing China's "One Belt One Road " (OBOR) initiative. This policy, whilst it will take time to mature, is evolving as more and more professionals and corporations experience Chengdu and learn about the Chengdu way, they will be encouraged and assisted in to deepening their business and trade relations. The Chengdu Lodz, Poland railway is one of those key drivers and now supports rail services reaching the Caspian Sea from North West China and within the next five to ten years those who invest in Chengdu and Sichuan will reap vast economic rewards from this important gateway trade route.
Tourism attracted to and supported by the unique culture will also be a strategic driver in the OBOR initiative. Sichuan, which can trace its history back over 3,500 years, and Chengdu over 2,300 years, are richly immersed in culture, art, dance and song. We also advocate culture will be a common language amongst the many countries within Eurasia and will also help open the OBOR business and trade relations. A cultural historian stated to the investinchengdu.com founders recently "Culture and History are part and parcel of Chengdu. We truly respect and value our culture, and when others experience it and we likewise theirs, we will find common themes values and further enrich our lives".
Indeed, doing business in any jurisdiction always presents challenges and when venturing far afield there is always a paradigm of risk and reward. Enterprises and start ups have shareholder interests to consider and now more than ever pressing socio-economic responsibilities. However, when comparing Chengdu, Sichuan and Western China to other external economic regions struggling to demonstrate even 1.5 percent growth, and whose enterprises may have lost some of the critical zeal to innovate held back by leaders struggling to grapple with the inherently complex planning processes, these regions and cities possess significant and sustainable socio-economic benefits, greater stability, and the culture to balance lifestyle with commercial prosperity..
Finally, investinchengdu.com envisages that within the medium term it will be knowledgeable and talented professionals and start ups who will foster Chengdu's transition to an innovative, green and research driven economy. Indeed in due course, enterprises will make the move, but it is us, the people, the professionals, who possess a unique sense of adventure, creative flair and business acumen, who will make the strategic decision to travel to and explore Chengdu. In this way they will discover its socio-economic and innovation driven culture and capabilities. We possess the knowledge, skills and talent to adapt effectively to business and investment conditions and develop ground breaking technologies. We possess the unique abilities to collaborate and learn, commence and support start ups and together ensure Chengdu's socio-economic journey continues at a pace into the next decade.
Chengdu with many direct flights from Europe, The Americas and Greater Asia and with many new international hotel chains opening, opulent locations are now only a stones throw away from where you will feel at home.
As they say "come and you shall see the socio-economic miracle in action and find your unique place ".
Information source; The Ministry of Commerce, China, Chengdu Municipal Government VW, and Medtronic.
Disclaimer – This article was researched and written by investinchengdu.com