CHENGDU TO SYDNEY DIRECT FLIGHTS
Recently we had reported of efforts to launch direct flights between Chengdu and Sydney, and we can proudly announce that on the 25th of August 2016, the Sydney Airport Corporation and also Air China have confirmed the Chengdu to Sydney direct flights that will be commencing on the 12th of November 2016.
The direct Chengdu to Sydney service will further assist in broadening two-way tourism, education, business and investment opportunities.
Minister for Trade, Tourism and Major Events Stuart Ayres said these new direct services contribute to the delivery of the China Tourism Strategy 2012-2020, which aims to grow visitation from second tier cites such as Chengdu through new aviation services. "Western China is an exciting and important growth market for NSW tourism and we are delighted to promote Air China's direct Chengdu to Sydney service through our tourism and major events agency Destination NSW," Mr. Ayres said.

Investinchengdu.com congratulates Air China on this initiative but we would like to highlight further synergies between Sydney and Chengdu.
Sydney, the premier city of Australia, the capital of New South Wales, generates 23.3% of Australia's GDP (AUD$378 billion), and has demonstrated GDP growth of at least 3% throughout the 2014 till 2016 period.
The Sydney financial services sector, where one locates the Australian Stock Exchange (ASX) and is the headquarters of various of Australia' top four banks (Commonwealth Bank, Westpac), is an integral part of the Asian and global financial landscape. Sydney has very well resourced financial sectors such as asset and wealth management, investment banking and plays an instrumental role in the growth of the Australian economy.
Within Sydney the construction, health, technology, retail and real estate service industries also play a significant role, and the unstoppable Sydney property market over the last ten plus years has demonstrated significant growth and returns for investors.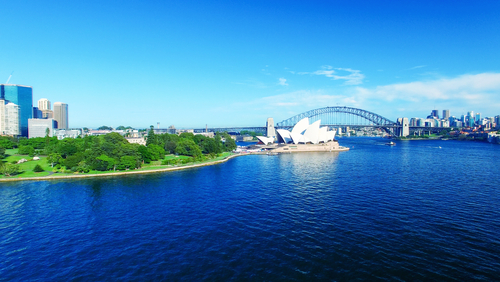 Walk through any section of greater Sydney, and one can feel and see the influx of Asian capital and the tremendous benefits it has provided the economy.
Recently, a delegation of start-ups from the University of New South Wales visited Chengdu in their quest for seeking capital and broadening their market reach. We also congratulate this endeavour and look forward to their next initiative.
Accordingly, in moving forward how can Chengdu and Sydney strengthen their business and economic relationships.
Investinchengdu.com maintains that health, technology and tourism will be the main drivers of two-way business growth over the next five years.
Throughout Sydney and Melbourne, there has been a significant number of start-ups popping throughout various industries, and indeed their creators do look far afield to your Silicon Valley's and London's for capital and market reach.
However, these Australian start-ups should not discount Chengdu, Sichuan and Western China because here is where 400 million people reside with an economy of nearly US$3 trillion (Western China figures).
Chengdu is China's fourth largest city, its third start-up capital hub, home to a very innovative high tech zone and has significant government support initiatives in place.
Chengdu also houses Australia's fourth Australian consulate in China and has a very active AusTrade Office who can assist in various innovative ways.
In Sydney there are leading universities (Sydney University, UNSW) and hospitals (St. Vincents, Royal North Shore, Macquarie University Hospital), who are undertaking ground-breaking research and work.
The Macquarie University Hospital, which is located on the Macquarie University campus has been making significant inroads in pioneering various initiatives in robotic surgeries, cancer and acute surgery techniques.
Indeed, with these return Chengdu to Sydney flights, these broader business and research and development relationships will gradually develop.
Disclaimer: This article was written and researched by www.investinchengdu.com and Chengdu 'Dailu' Business and Management Advisory Services Co Ltd. 成都带路企业管理咨询有限公司